Amitabh Bachchan Horoscope Analysis | Janm Kundli, Zodiac Sign
Reading Time:
2
minutes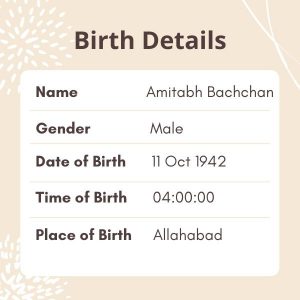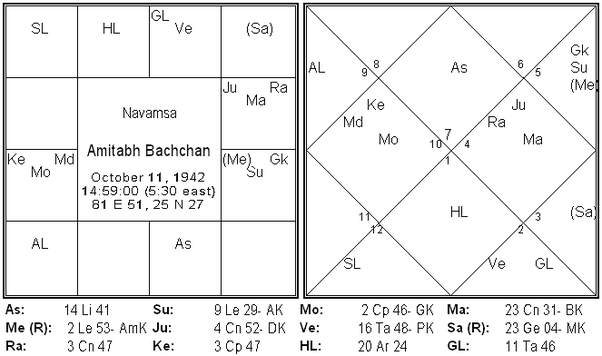 Planetary Combinations
Rahu is traversing the tenth house to his ascendant sign in his Surya Kundali, while Ketu and Saturn are transiting the fourth house to his ascendant. In January 2020, Saturn will transit his ascendant in the fifth house. Jupiter is transiting into the fourth house after passing through the third house to his ascendant in November 2019.
Based on these transformations, we believe that Amitabh Bachchan's image and influence will improve considerably more this year, and that he will gain even more peace of mind. He may also develop deeper emotions over time, which could be displayed publicly at regular periods throughout the year. He may also become preoccupied with worries about his family and close friends.
Various events in life are determined by the planets, planetary positions, houses, birth stars, influences, aspects, and a combination of planets. Here's a quick look at Amitabh Bachchan's horoscope to see how it relates to his personality and life.
Astrological Highlights
Amitabh Bachchan's kundli predicts that he will be a self-made millionaire. He will rise from obscurity to become an empire, constructing everything on his own. He will manifest his own fame, fortune, and prosperity.
He could be a sincere, hardworking, generous man who is also sensitive and intellectual. He is a logical thinker. According to Amitabh Bachchan's birth chart, he will be able to establish friends easily, but he will also confront difficulties through friends. While his skills and talent may allow him to reach high heights in his work, he may also encounter a great deal of criticism in various areas of life.
The planetary alignments in Amitabh Bachchan's kundli make him appear not just beautiful and well-built, but also well-behaved. He will act in a very friendly manner toward his loved ones. His destiny will be to obtain wealth, power, celebrity, prestige, and respect in society due to a combination of planets.
In Amitabh Bachchan's Janam Kundli, there are various combinations of planets in his birth chart that contain many "Yogas." His horoscope contains a powerful uncommon raja yoga that has provided him with a lucrative and very gratifying profession for decades.