Mahesh Babu Horoscope Analysis: Kundli, Birth Chart, Zodiac Sign, and Career
Reading Time:
2
minutes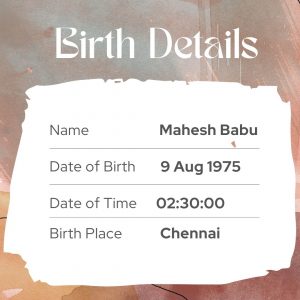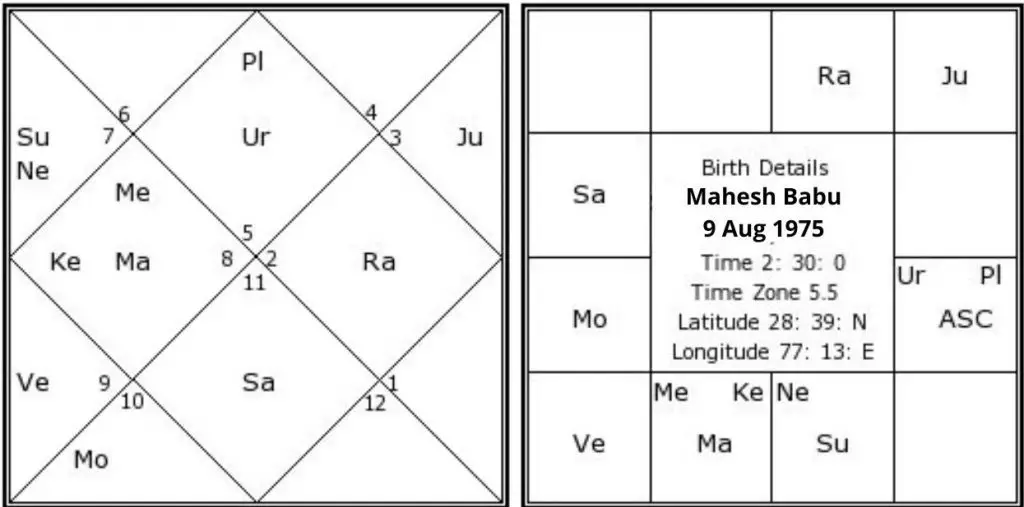 Planetary Combinations
Mahesh Babu, also known as Mahesh Ghattamaneni, is a popular Telugu film actor who has acted in a number of films. He is the youngest son of legendary actor Krishna and comes from a family of cinema professionals. He was born, raised, and attended college in Chennai, Tamil Nadu, although acting largely in Telugu films.
He began acting as a child actor when he was just four years old. His first adult film was released in 1999, and he received the State Nandi Award for his initial performance. He is one of the most well-paid actors in Hollywood. He was known as 'Prince' and was frequently referred to as the most pleasant and attractive male celebrity.
Venus is in the sign of Leo in Mahesh Babu's natal horoscope, which denotes drama and entertainment. Venus, the creative and artistic planet in Leo, bestows true acting talent on him and aids him in leading the crowds.
Leo Venus also has the Moon and Mercury on his side, which gives him a creative and acting talent. Mercury Leo also aids in the development of a dynamic and powerful communication style, which benefits his performing profession. Leo Mercury provides the speech with much-needed vigour and creativity for the film industry.
Mars' placement in Taurus, which is controlled by Venus, makes him highly grounded and practical. The location of Mars also contributes the beauty of Venus, which gives him a lot of creative potential. Taurus Mars also makes him very sensual and appealing, and the Ketu conjunction adds a lot of vigour to his chart through its conjunction with Mars.
Astrological Highlights
Mahesh Babu was born under the sign of Libra. Libra is the 7th zodiac sign, and it is ruled by Venus. Mahesh Babu's horoscope predicts that he will have a large number of friends and will be a charismatic leader among them. He might be obedient, diligent, and respectable. The most generous individual may also be the most powerful administrator. He may appreciate the finer things in life and be passionate about the arts and music.
During the Middle Ages, luck may be on his side. He was born into a wealthy family, but he would build his own money. He is a multi-talented individual with a strong desire to succeed. Raj Yoga is formed by the placement of specific planets in his horoscope, which bestows him with unexpected career progress, financial plenty, and a peaceful domestic life.
Mahesh Babu's birth chart predicts that he will have a charming and captivating personality. He is soft-spoken, enjoys assisting others, is grateful, and is generally pleasant. He is quick-witted, well-informed, rational, and impressive.
He might be a deeply pious and spiritual individual. Throughout his life, he may be blessed with domestic harmony. Mahesh Babu's zodiac sign also predicts that his family would provide him great joy. He may want a peaceful and tranquil existence with little power and influence. He will have a strong sense of aesthetics.