Sachin Tendulkar Horoscope Analysis | Janma Kundali, Zodiac Sign
Reading Time:
3
minutes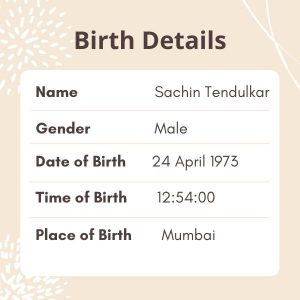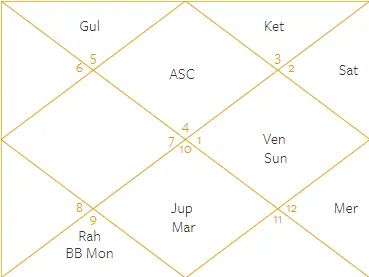 Planetary Combinations
The Ascendant Moon's ruler is in the last fire sign, Sagittarius, and is in the sixth house with Rahu. This posture allows Indian cricketer Sachin Tendulkar to overcome adversity and continue to perform admirably. Jupiter is the ruler of the sixth and ninth houses. Jupiter is weak in Capricorn, the earth sign. In Capricorn, exalted Mars joins debilitated Jupiter. Both planets are in the seventh house, signifying a love marriage for Indian cricketer Sachin Tendulkar. Saturn dominates the seventh house, which is also ruled by the eighth house. Saturn is in the eleventh house and is in the earth sign Taurus. This job assists Sachin Tendulkar, an Indian cricketer, in pursuing other interests outside of cricket.
Sachin Tendulkar, a former Indian international cricketer, makes a lot of money by promoting a few brands. Venus rules the eleventh and fourth houses, respectively. Venus is in the tenth house, together with the exalted Sun, in the cardinal fire sign of Aries. Sachin Tendulkar is able to do exceptionally well in this capacity, receiving accolades for his efforts as well as cash rewards. Mercury is weakened and stationed in the ninth house in a dual nature last of the water sign Pisces. This demonstrates that Sachin Tendulkar occasionally fails horribly as a right-handed batsman.
Jupiter and Mercury are both weak in your birth chart. Exalted are the Sun and Mars.The Moon is weakened in the Navmansha D9 chart, resulting in a lack of strength.
Mars, along with Rahu, is in the tenth house in the D10 chart. The planet Venus is in the first house of the horoscope. Mars is in opposition to Venus. This posture aids Sachin Tendulkar, an Indian cricketer, in achieving greater success and setting new records.
Sachin Tendulkar, an Indian former international cricketer, is currently influenced by the Saturn subperiod of Jupiter's major period, which will last until February 27, 2022. This shows that Sachin Tendulkar is being compensated for his outstanding achievement. Sachin Tendulkar may participate in certain friendly matches to raise money for a good cause. Sachin Tendulkar has a lot of potential time ahead of him in the near future.
Wily Saturn is currently transiting through the seventh house in his own sign of Capricorn. Saturn transiting the seventh house opposes the debilitated Jupiter and exalted Mars who are both stationed there. Transiting Saturn is looking at the debilitated Mercury in the ninth house, which is in a radical situation. In light of Saturn's movement and impacts, Indian cricketer Sachin Tendulkar continues to promote companies and play friendly matches for social causes such as road safety and others. Sachin Tendulkar, an Indian cricketer, is expected to become much wealthier in the near future.
Planet of the Shadows Rahu is currently transiting the 12th house in a dual nature first of air sign Gemini. Rahu transits the 12th house, crossing the radical position of Ketu who is stationed there. In the near future, Rahu's movement could lead to significant improvements for Sachin Tendulkar. Sachin Tendulkar spends a lot of time in this city.
Jupiter is currently transiting through the sixth house in his own sign of Sagittarius. Jupiter's transit of the sixth house crosses the extreme position of the Moon and the shadow planet Rahu, both of which are stationed there. The tenth house is afflicted by transiting Jupiter, which is conjunct the radical position of Venus and the exalted Sun. This movement, with its optimistic feelings over the exalted Sun and Venus, portends a wealthy future for Indian cricketer Sachin Tendulkar. He receives more ad contracts and also participates in some charitable work for a social purpose.
Two major planets transiting in his own sign and travelling through his major house imply that he is progressing positively and adding to his wealth.
Finally, based on the planetary positions in the Cancer Ascendant and the effect of significant planet transits, we believe Sachin Tendulkar, an Indian former international cricketer, will have a major potential time in the near future.
Astrological Highlights
Sachin Tendulkar, an Indian cricketer and former captain of the Indian national team, was born with the Cancer ascendant. Cancer is a water sign that is ruled by the Moon.
Cancer is one of the most perplexing Zodiac Signs, both in its finest and worst aspects. Cancer, ruled by the Moon, is a sensitive, emotional, watery Sign that is intimately identified with its animal symbol, the crab. Don't be offended if they take their time adjusting to the new atmosphere and company. Cancerians are ambitious and self-reliant, and they aspire to start their own business. Despite the fact that people born under the Zodiac Sign Cancer are gloomy and often confused, they cannot afford to be the same when it comes to money and business dealings, as Cancer's money planet – Sun – suggests. Their mood swings can be an impediment to their progress. They can benefit from investing in resorts and clubs, historic hotels and houses, coffee shops, and even residential plots.