Shahrukh Khan Horoscope Analysis | Know the Reason Behind His Super Success?
Reading Time:
2
minutes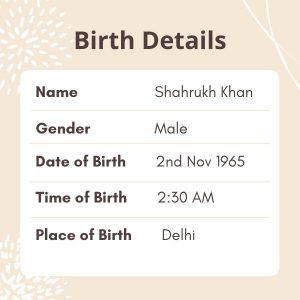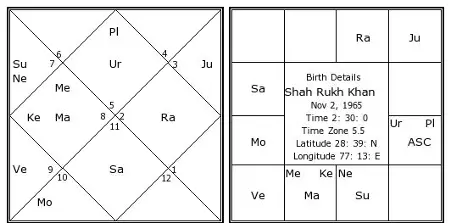 Planetary Combinations
In Shahrukh's birth chart, the planets Venus and Saturn are both leaders. He was born with Retrograde Saturn in Aquarius in the 7th House, which helps him project a positive image. The 9th House of Mars, on the other hand, is in its own 4th House. It is the king of popularity and the masses, and it is the main cause for his current success. Furthermore, when the 2nd Lord of Riches joins the 11th Lord of Gains, success, domination, power, wealth, knowledge, and richness are all defined.
 The planets Venus, Mars, and Jupiter, as well as the interaction between the seventh, ninth, fourth, and eleventh houses of Vedic Astrology, play a significant part in Shahrukh Khan's horoscope. Venus, his profession's 10th lord, is in the 5th house, which is the home of creation. Apart from his talent and skills, this is the cause for his success in movies and performing.
Because the twelfth Lord Moon is in the sixth house, his job prospects will increase in the following years. However, the seventh and sixth houses are both powerfully situated in his own home, which is also a favourable omen for his health and family. In fact, his sixth house is very powerful, indicating that despite failure and lack of achievement, he will have the complete support of his family.
When it comes to the Lord of the Eleventh House, Venus, who governs his acting and vocation, is in excellent shape and will continue to improve in the future. While his fourth house, which governs success and popularity, may suffer a setback, and he may experience some difficulties. Overall, his performing profession, personal life, and financial life will take on new hues and improve with each passing day.
Astrological Highlights
Shahrukh Khan was born under the sign of Leo, which is a fire sign ruled by the sun. The Sun, as we all know, is the most powerful planet in our Solar System, and it revolves around it. People born under the Leo Zodiac sign are forceful, protective, and natural leaders. All of these attributes, which combine Sun and Leo, mirror "King Khan's" personality in some way.
Speaking about his Saturn, he has been in the Ketu Nakshatra since 2011, which is a bad indication for him. This is why his films such as Happy New Year, Fan, Jab Harry Met Sejal, and Zero failed to captivate audiences. Shah Rukh Khan is a habitual smoker, and his 2nd lord Mercury is conjunct Mars, and his 7th lord Saturn is in Rahu Nakshatra, which does not bode well for his health.
He is currently in his Saturn Mahadasa, which he will be in till 2026. Saturn is in a great position in his own sign, and he will continue to shine brightly. His next Mercury Mahadasa is also going to be fantastic. It may, however, affect his health, but overall, he is in for a nice time and excellent fortune.