Kareena Kapoor Horoscope Analysis | Janm Kundli, Zodiac Sign
Reading Time:
2
minutes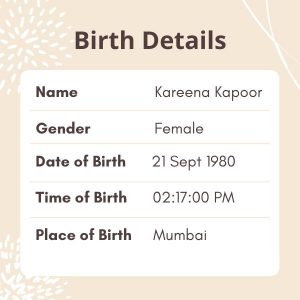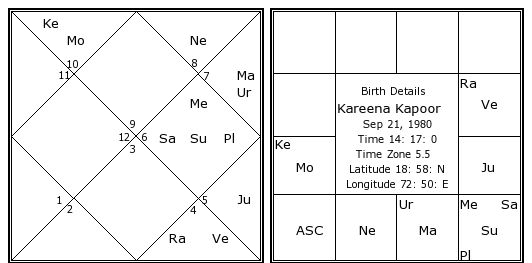 Planetary Combinations
Kareena Kapoor Khan, a well-known Bollywood actress, was born under the sign of Sagittarius, a dual-natured last of the fire signs. Sagittarius Ascendant natives are very hopeful and strive hard to achieve their goals. The Ascendant's Ruler Jupiter is in the ninth house and is in the fiery sign of Leo. The Ascendant is influenced positively by Jupiter. As a result, there is a high level of acceptability for here.
The strong Sun, ruler of the ninth house, is in the tenth house, together with ruler Mercury and wily Saturn, in the dual natured earth sign Virgo. Kareena Kapoor used this position to make significant development as a female actor in Hindi films. Saturn's placement in the tenth house means that she will have to work hard to make a reputation for herself in the Indian film industry.
Mars, lord of the fifth and 12th houses, is in the eleventh house and is in the air sign Libra. The eleventh house is Venus's dominion. Venus is in the water sign of Cancer and is in the ninth house with Rahu, the malefic shadow planet. Ketu, the malefic shadow planet, is in Capricorn, the earth sign, and is in the second house with Moon. Her superb appearance and stunning eyes are due to the Moon and Venus being in opposition.
Planetary placement and positions, planetary houses, houses, combinations and aspects of planets all influence a person's life events, basic qualities, and many other events.
Astrological Highlights
Kareena Kapoor's horoscope and astrological placements predict that she will be a graceful woman, full of confidence, outspoken, skilled in her field, active, ambitious, bright, insightful, and warm.
With a lengthy face and neck, she has a charming demeanour and ages gracefully. Others misunderstand her, despite the fact that she is highly realistic and methodical.
Exalted 10th lord Mercury, Bhagyadhipati 9th lord Sun, and 2nd lord Saturn make an extremely potent rajayoga in the 10th house. Jupiter, the lagna lord, is in the bhagyasthan 9th house of profits, and Mars, the 5th lord, is in the 11th house of gains, which has helped her become a great actress in Bolywood. Venus's conjunction with Rahu resulted in her marrying a man of a different religion.